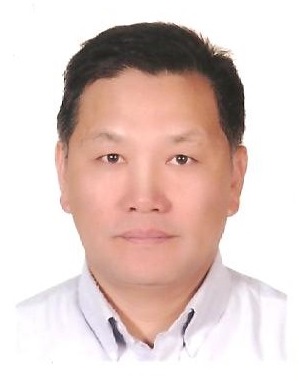 Professor
Name
Yau, Shueh-Lin
Email
Phone:
(03)4227151 ext.65922
Professional field:
Analytical Chemistry,
Surface Chemistry,
Electrochemistry
Research Interest
1.Scanning Tunneling Microscopy Imaging of Well-Defined Electrified Interfaces
2.Electrocatalysis at Well-Ordered Noble Transition Metal Electrodes
3.Electrodeposition at Bare and Modified Metal Electrodes
Diploma
| Country | School Name | Department | Degree |
| --- | --- | --- | --- |
| | | | |
| | | | |
| | | | |
Experience
Duration
2012.08 ~ 2015.07
2010.01 ~ Up to today
2003.01 ~ Up to today
1997.01 ~ 2003.01
1993.01 ~ 1997.01
1991.01 ~ 1993.01
Personal Honor
| Honor Category | Year | Award Name | Awarding Unit |
| --- | --- | --- | --- |
| Inside School Honor | 2009 | | |
Personal Research
研究興趣
1.表面電化學
2.電子穿透顯微技術
Research
Research activities in my group have focused on using surface sensitive techniques such as scanning tunneling microscopy and surface enhanced infrared absorption spectroscopy coupled with electrochemical methods to investigate electrified interfaces of metal single crystal electrodes, particularly platinum, gold, copper, palladium, rhodium etc. We have explored the electropolymerization of aniline, thiophene, pyrrole and their derivatives, the electrodeposition of copper, nickel, cobalt, and the electrocatalysis of Pt films or bulk electrodes toward electroxidation of CO, methanol, formic acid and toward oxygen reduction reaction - important electrochemical reactions occurring at the anode and cathode of fuel cells.
I. Electropolymerization of aniline
        Adsorption of aniline molecules on Au(111) electrode
        Cyclic voltammgram (below) obtained with Au(111) electrode in 0.1 M H2SO4 + 30 mM aniline shows two pairs of current spikes associated with the sudden transitions of aniline molecules adsorbed on the Au(111) electrode, which corresponds to the observation of two structures by STM. Aided by molecular-resolution STM imaging and X-ray photoelectron spectroscopy, we are able to determine the chemical compositions and dimensions of these spatial structures and finally propose a tangible model of aniline molecules adsorbed on the Au(111). These self-assembled aniline molecules are arranged in a head-to-tail orientation, which enabled molecular coupling into polyaniline molecules upon anodization at E > 0.9 V (vs. RHE).
Oxidative polymerization of aniline
The followings are STM images collected as oxidation of aniline at E > 0.9 V (vs. reversible hydrogen electrode), producing linear segments aligned in the <110> direction on the Au(111) electrode. PAN grew to 50 nm long molecular wires. This anisotropic reaction was likely guided by specific molecular orientation of aniline and the nature of head-to-tail molecular coupling of polymerization.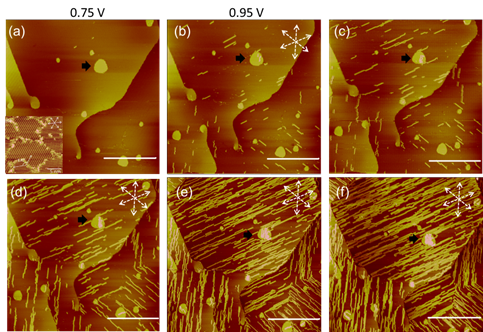 II. Electrodeposition of Copper, Nickel and Cobalt
        Electrodepsition has been important to metallize substrate, imparting uses to a number of industries. For example, Cu deposition has been an essential method to fabricate interconnects to silicon chips. Films of Ni and Co have intriguing magnetic properties, which are essential to fabricate hard drive for computers and switches. We have used STM to study the surface morphology and atomic structures of Ni and Co on gold and platinum electrodes. Shown below are STM images obtained with cobalt deposited on Pt(111) electrode in pH3 electrolyte containing chloride. Well-defined triangular textures suggest face-center close packed or hexagonal close packed atomic structures of the Co deposit. STM imaging also revealed Co film grew in layered manner and developed spiral defects as it thickened. Molecular resolution STM imaging was obtained to shed insight into the atomic structures of Co adatoms, which appear to form moire patterns, the typical structures observed with hetero-epitaxial deposition, as adatom and substrate have different lattice constants.
Atomic Structures of Cobalt film electrodeposited on Pt(111)

III. Electrocatalysis of Pt and its alloy films
        Platinum has been known to electrocatalyze methanol oxidation and oxygen reduction reactions, two of the most relevant to the development of fuel cells used to power vehicle, electronic gadgets, and many. We have devised methods to prepare ultrathin films of Pt and its alloys and studied the electrocatalytic properties of these electrode materials. Shown below are a STM image of Pt thin film one atom thick on deposited Au(111) substrate, which was made by reduction of Pt salt by carbon monoxide. As CO was adsorbed on the Pt film, further Pt deposition into multilayer Pt was kinetically impeded. This Pt monolayer was used to performed oxygen reduction, as demonstrated by the current vs. potential profile obtained with a rotating Pt/Au(111) electrode. Results obtained with a few of these Pt/Au(111) electrodes made by different dosing times and with ordered Pt(111) electrode are shown (right). All Pt/Au(111) electrodes resulted in higher E1/2 potentials than that of Pt(111), attesting the advantage of these Pt films. This finding could be used to fabricate more practical electrodes for future fuel cell technology.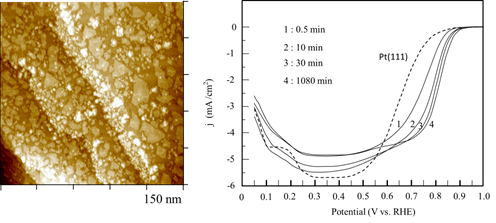 Personal Journal
2018, 
Electrified Interfaces of 
Pt(332) and Pt(997) in Acid
 Containing CO and KI: As Probed by I
n-situ Scanning Tunneling Microscopy, 
j. Phys. Chem. C
2017, Au(111)-Supported Pt Monolayer as the Most Active Electrocatalyst toward Hydrogen Oxidation and Evolution Reactions in Sulfuric Acid, j. Phys. Chem. C
2016, Adsorption and Electrochemical Polymerization of Pyrrole on Au(100) Electrodes as Examined by In Situ Scanning Tunneling Microscopy, j. Phys. Chem. C
2015,Scanning Tunneling Microscopy Examination of Rubrene Deposited on Au(111) in Aqueous Solution ,j. phys. chem. c (SCI)
2014,In situ STM and ex situ XPS examination of the adsorption and polymerization of metanilic acid and aniline on Au(111) electrode ,j. electroanal. chem. (SCI)
2014,In situ scanning tunneling microscopy of the adsorption and polymerization of aniline on Au(1 1 1) electrode in nitric acid ,j. electroanal. chem. (SCI)
2014,Effects of Anions on the Electrodeposition of Cobalt on Pt(111) Electrode ,LANGMUIR (SCI)
2014,In Situ Scanning Tunneling Microscopy Imaging Self-Assembled Monolayers of Mercaptoacetic Acid and Cupric Ion on Au(111) Electrode ,j. electrochem. soc. (SCI)
2013,In situ scanning tunneling microscopy characterization of thienothiophene-based semiconducting organic molecules adsorbed on a Au(111) electrode ,surface science (SCI)
2013,In Situ Scanning Tunneling Microscopy of Electrodeposition of Indium on a Copper Thin Film Electrode Predeposited on Pt(111) Electrode ,Journal of Physical Chemistry C (SCI)
2013,Scanning Tunneling Microscopy of Superfilling in Formula Containing Chloride, Polyethylene Glycol and Bis-3-Sodiumsulfopropyl-Disulfide ,Journal of Electrochemical society (SCI)
2013,Use of 3,3-Thiobis(1-propanesulfonate) to Accelerate Microvia Filling by Copper Electroplating ,Journal of Electrochemical society (SCI)
2013,Potential-Induced Adsorption Behavior of Carboxyl-Terminated Alkanethiol on Au(111) Surfaces ,Journal of Physical Chemistry C (SCI)
| Year | Paper Title |
| --- | --- |
| 2015 | Scanning Tunneling Microscopy Examination of Rubrene Deposited on Au(111) in Aqueous Solution , J. Phys. Chem. C, Jan. 2015 |
| 2014 | In Situ Scanning Tunneling Microscopy Imaging Self-Assembled Monolayers of Mercaptoacetic Acid and Cupric Ion on Au(111) Electrode , j. electrochem. soc., Dec. 2014 |
| 2014 | Effects of Anions on the Electrodeposition of Cobalt on Pt(111) Electrode , LANGMUIR, Nov. 2014 |
| 2014 | In situ scanning tunneling microscopy of the adsorption and polymerization of aniline on Au(1 1 1) electrode in nitric acid , j. electroanal. chem., Nov. 2014 |
| 2014 | Self-Organized Electropolymerization of Aniline on Au (111) Electrode in Hydrochloric Acid , j. electrochem. soc., Oct. 2014 |
| 2014 | In situ STM and ex situ XPS examination of the adsorption and polymerization of metanilic acid and aniline on Au(111) electrode , j. electroanal. chem., Jan. 2014 |
| 2013 | In situ scanning tunneling microscopy study of cobalt thin filmelectrodeposited on Pt(1 1 1) electrode , electrochim acta, Dec. 2013 |
| 2013 | Potential-Induced Adsorption Behavior of Carboxyl-Terminated Alkanethiol on Au(111) Surfaces , Journal of Physical Chemistry C, Dec. 2013 |
| 2013 | Use of 3,3-Thiobis(1-propanesulfonate) to Accelerate Microvia Filling by Copper Electroplating , Journal of Electrochemical society, Dec. 2013 |
| 2013 | Scanning Tunneling Microscopy of Superfilling in Formula Containing Chloride, Polyethylene Glycol and Bis-3-Sodiumsulfopropyl-Disulfide , Journal of Electrochemical society, Dec. 2013 |
| 2013 | In Situ Scanning Tunneling Microscopy of Electrodeposition of Indium on a Copper Thin Film Electrode Predeposited on Pt(111) Electrode , Journal of Physical Chemistry C, Nov. 2013 |
| 2013 | In situ scanning tunneling microscopy characterization of thienothiophene-based semiconducting organic molecules adsorbed on a Au(111) electrode , surface science, Oct. 2013 |
| 2012 | Epitaxial Electrodeposition of Nickel on Pt(111) Electrode , Journal of Physical Chemistry C, Sep. 2012 |
| 2012 | Adsorption and Desorption of Bis-(3-sulfopropyl) Disulfide during Cu Electrodeposition and Stripping at Au Electrodes , LANGMUIR, Sep. 2012 |
| 2012 | Electrochemical Cu Growth on MPS-Modified Au(111) Electrodes , Journal of Physical Chemistry C, Jul. 2012 |
| 2012 | In situ scanning tunneling microscopy imaging of electropolymerized poly(3,4-ethylenedioxythiophene) on an iodine-modified Au(1 1 1) single crystal electrode , electrochim. acta, Feb. 2012 |
| 2012 | In situ scanning tunneling microscopy of 5-(Dodecyloxy)-2-(5-(4-(pentyloxy)phenyl)-1H-pyrazol-3-yl)phenol adsorbed on Au(1 1 1) electrode , journal of electroanalytical chemistry, Jan. 2012 |
| 2012 | Dynamic self-assembly and electropolymerization processes of 3,4-ethylenedioxythiophene on Au(1 0 0) single crystal electrode as probed by in situ scanning tunneling microscopy , electrochim acta, Jun. 2011 |
| 2011 | Epitaxial Electrodeposition of Cobalt on a Pt(111) Electrode Covered with a Cu(111) Film , j. phys. chem. c, Oct. 2011 |
| 2011 | Copper Underpotential Deposition on Gold in the Presence of Polyethylene Glycol and Chloride , Int. J. Electrochem. Sci., May. 2011 |
| 2011 | In Situ Scanning Tunneling Microscopy Study of 3-Mercaptopropanesulfonate Adsorbed on Pt(111) and Electrodeposition of Copper in 0.1 M KClO4 + 1 mM HCl (pH 3) , the journal of physical chemistry C, Apr. 2011 |
| 2011 | In Situ STM Imaging of Bis-3-sodiumsulfopropyl-disulfide Molecules Adsorbed on Copper Film Electrodeposited on Pt(111) Single Crystal Electrode , LANGMUIR, Apr. 2011 |
| 2011 | Sensitivity Enhancement for Quantitative Electrochemical , j. electrochem. soc., Mar. 2011 |
| 2010 | Molecular Assembly and Electropolymerization of 3,4-ethylenedioxythiophene on Au(111) single crystal electrode as probed by in situ electrochemical STM in 0.1 M HClO4 , LANGMUIR, 2010 |
| 2010 | InSitu STM of 3-Mercaptopropanesulfonate Adsorbed on Pt(111) electrode and its effect on the electrodeposition of copper , Journal of Electrochemical society, 2010 |
| 2010 | In situ STM study of the adsorption and electropolymerization of o-, m-, and p-ethylaniline molecules on Au(111) electrode , Physical chemsitry and chemical physics, 2010 |
| 2010 | In Situ STM Elucidation of the Adsorption and Polymerization of Alkyl Ring-Substituted aniline on Au(111) electrode , Journal of Physical Chemistry C, 2010 |
| 2010 | In Situ STM Revelation of the Adsorption and Polymerization of Aniline on Au(111) electrode in perchloric acid and benzenesulfonic acid , LANGMUIR, 2010 |
| 2010 | Substrate-Induced Varied Conformation and Molecular Assemblies: In Situ observation of b-substituted oligothiophene adlayers on Au(111) , LANGMUIR, 2010 |
| 2010 | In Situ STM Imaging of Fused Thienothiopene Molecules on Au(111) electrode , LANGMUIR, 2010 |
| 2010 | Reflection High-Energy Electron Diffraction Characterization of Cobalt Clusters electrodeposited on a Au(100) electrode , 2010 |
| 2009 | 2009 |
| 2009 | 2009 |
| 2009 | 2009 |
| 2009 | 2009 |
| 2009 | 2009 |
| 2009 | 2009 |
| 2009 | 2009 |
| 2008 | Crystalline alloys produced by mercury electrodeposition on Pt(1 1 1) electrode at room temperature , Electrochimica acta, 2008 |
| 2008 | Adlayer structure of octa-alkoxy-substituted copper(II) phthalocyanine on Au(111) by electrochemical scanning tunneling microscopy , MICROSCOPY RESEARCH AND TECHNIQUE, 2008 |
| 2007 | Direct Visualization of an Aniline Admolecule and Its Electropolymerization , journal of the american chemical society, 2007 |
| 2007 | Electrochemical scanning tunneling microscopy examination of the structure of benzenethiol molecules adsorbed on Au(100) and Pt(100) electrodes , surface science, 2007 |
| 2006 | In Situ Scanning Tunneling Microscopy of 1,6-Hexanedithiol, LANGMUIR, 2006 |
| 2006 | Ordered Molecular Assemblies of Substituted Bis(phthalocyaninato) , LANGMUIR, 2006 |
| 2006 | Electrodeposition of Au Monolayer on Pt(111) Mediated by , journal of the american chemical society, 2006 |
| 2005 | Adsorption of formaldehyde on Pt(111) and pt(100) electrodes: Cyclic voltammetry and scanning tunneling microscopy , LANGMUIR, 2005 |
| 2005 | Role of the anion in the underpotential deposition of cadmium on a Rh(111) electrode: Probed by voltammetry and in situ scanning tunneling microscopy , JOURNAL OF PHYSICAL CHEMISTRY B, 2005 |
| 2005 | In-Situ Scanning Tunneling Microscopy of Carbon monoxide adsorbed on Au(111) electrode , LANGMUIR, 2005 |
| 2004 | Elucidation of the deposition processes and spatial structures of alkanethiol and arylthiol molecules adsorbed on Pt(111) electrodes with in situ scanning tunneling microscopy , LANGMUIR, 2004 |
| 2004 | Scanning tunneling microscopy of sulfur and benzenethiol chemisorbed on Ru(0001) in 0.1 m HClO4 , LANGMUIR, 2004 |
| 2004 | In situ scanning tunneling microscopy of Au(111) in acidic and alkaline potassium cyanide , JOURNAL OF PHYSICAL CHEMISTRY B, 2004 |